PLANET presented part of the work carried out within Living Lab 3 – IoT for Silk Road Route – reliable, transparent and fully connected corridor from China to the EU at the International Scientific Conference Business Logistics in Modern Management (BLMM2021) organized by Faculty of Economics in Osijek (Josip Juraj Strossmayer University of Osijek, Croatia) between 07th-08th of October 2021.
BLMM Conference started in 2001 as scientific research colloquium organized and hosted by Faculty of Economics in Osijek, Universty of Josip Juraj Strossmayer in Osijek, Croatia, and through years it became recognized as international scientific conference narrowly specialized in logistics, supply chain management and distribution issues of regional and global concern.
The BLMM20221 Conference comprised several presentations and round-table discussions, bringing together scientists and experts engaged in problems of business logistics and supply chain management of goods and services with the purpose of exchange of scientific ideas and professional opinion.
PLANET took part at the Session 2 – EFFICIENCY IN NETWORKS AND LOGISTICS PROCESSES – SUPPLY CHAIN TECHNOLOGY TRENDS. During this session Adam Kolinski (ILIM-PIT) presented the paper Review of intelligent solutions to optimise logistics processes and improve efficiency.
The purpose of this paper was to conduct a literature review and analyze trends of change in the use of modern and intelligent solutions in logistics. Business practice studies indicate that the implementation of intelligent solutions is only in its infancy, while new concepts and solutions for optimizing logistics processes are already emerging. The direction of further research should be the identification of benefits and barriers to the implementation of these solutions in business practice, analysis of the scope of their use in logistics, and comparative analyses of currently used intelligent solutions, with emerging technologies. These objectives are also guiding the further work planned within the Living Lab 3 in PLANET project.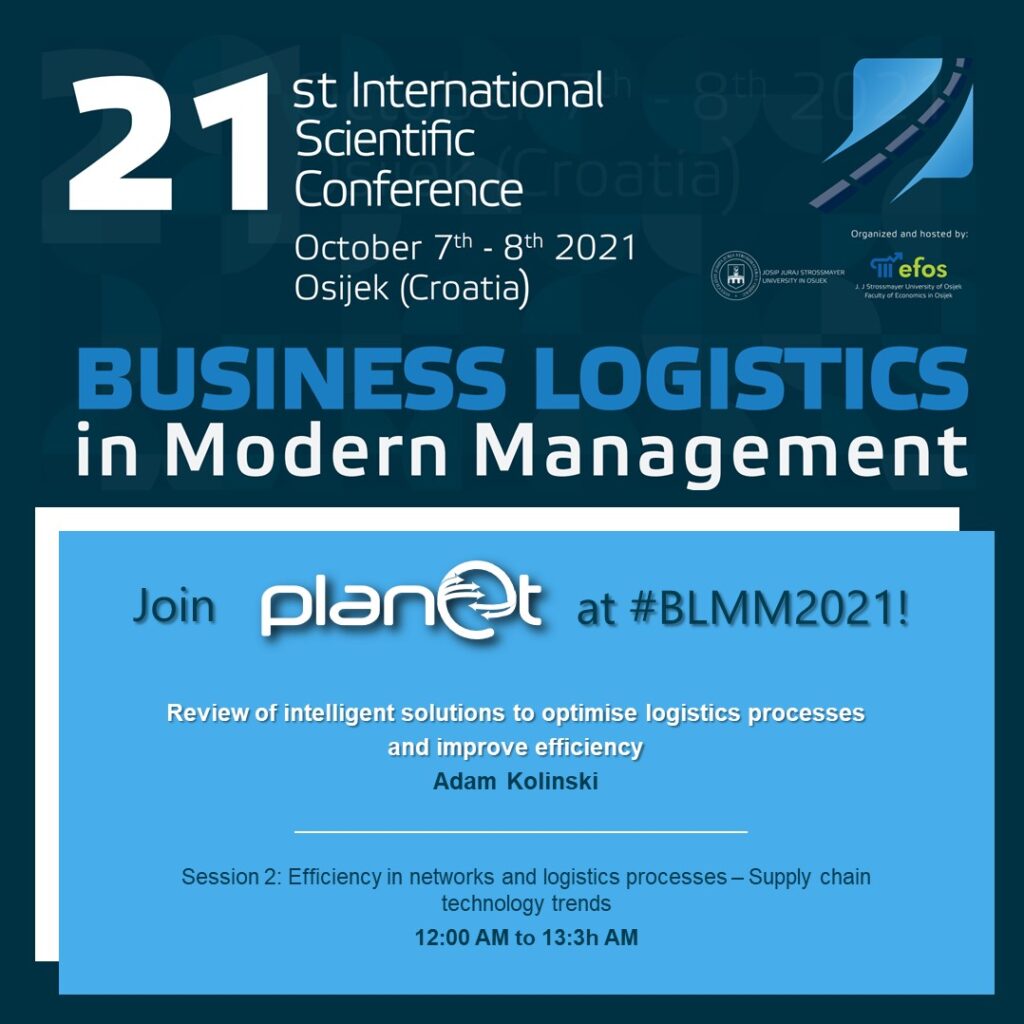 The full paper is available here.