PLANET participated in and presented during the largest European research and technology conference on transportation and mobility.
The Transport Research Arena (TRA) is the largest European research and technology conference on transport and mobility. TRA initiated in 2006 to convey all major players within the transport industry with a focus on cutting-hedge research. The conference is sustained by well-known international actors such as – among the others: the European Commission, CEDR (Conference of European Directors of Roads), ERTRAC (European Road Trasport Research Advisory Council), ERRAC (European Rail Research Advisory Council), WATERBORNE and ALICE (Alliance for Logistics Innovation through Collaboration).
TRA is a point of reference to all players in the transport industry, especially policy makers, looking to integrate regulations with the latest research findings. This year, the TRA Conference took place in Lisbon on 14 November – 17 November at the Lisbon Congress Center (CLL).
TRA is the largest European research and technology conference on transport and mobility. Themed "Moving together – reimagining mobility worldwide", TRA2022 brings together experts from around the world to discuss the newest innovations and future of mobility and transport, building also on the Portuguese historical legacy and links to overseas transport professionals. Through the development of innovative solutions, TRA Lisbon 2022 aimed for a more efficient, safer, carbon-free, inclusive, and sustainable transport in all its modes.
At TRA 2022 in Lisbon, you had the opportunity to learn about the PLANET project in-depth as well as the EGTN platform, a PLANET solution that aims to be an inclusive and powerful platform that can be adopted by any size of T&L actor as well as to take one step closer to the realization of the PI paradigm.
PLANET was at ALICE's booth (𝗣𝗮𝘃𝗶𝗹𝗶𝗼𝗻 𝟮 – 𝗦𝘁𝗮𝗻𝗱 𝟮.𝟭𝟯 – 𝟮𝗰) with two representatives of the PLANET project and a video explaining the relevance, vision and mission of the PLANET project.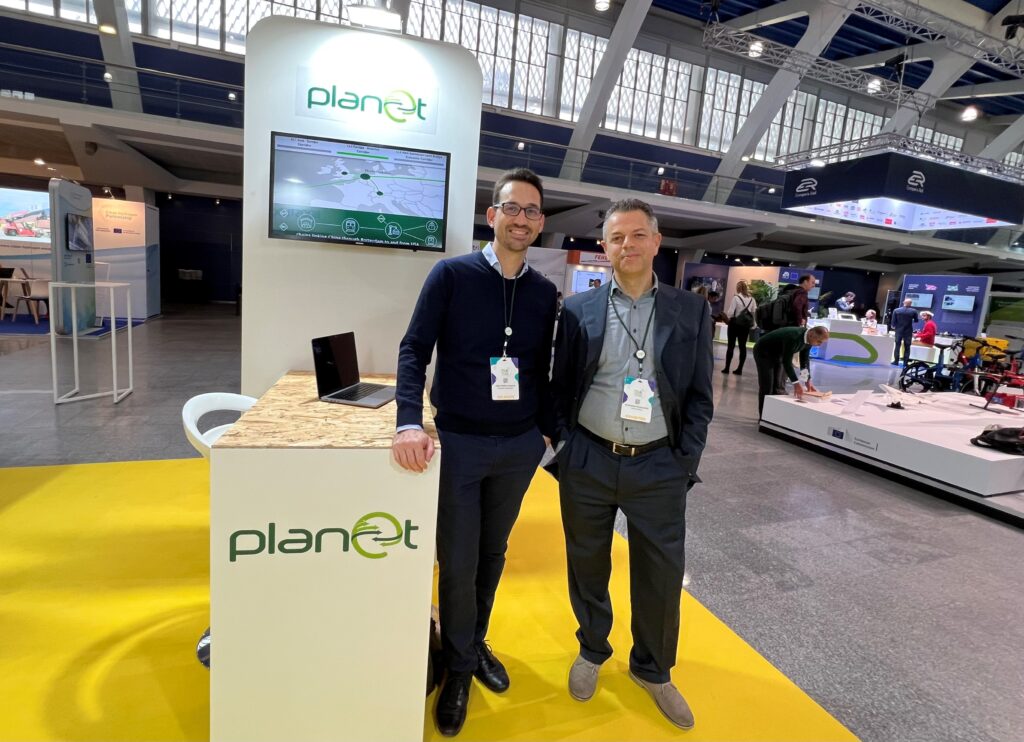 In addition, at TRA Conference, PLANET presented the paper A blockchain-based architecture and smart contracts for an interoperable Physical Internet at podium 1.4.1 Efficient and Innovative Logistics, Tuesday, 15 November 2022, 15:00-16:30h. Through this session Harris Niavis (INLECOM) presented the solution offered by the EGTN platform, while showcasing you the value of Blockchain interoperability and smart contracts to the PI, an emerging T&L paradigm.